For Students & Office Workers Under Age 40
Enhanced Single Vision Lens
Do you experience eyestrain and fatigue when reading, studying or doing computer work?
Relaxsee is a new concept lens for individuals under the age of 40 (pre-presbyopic) experiencing eyestrain. Relaxsee has been especially designed to relax your eyes when concentrating on the near vision. Unlike traditional single vision stress relieving glasses, Relaxsee allows you to see the distance clearly and can be worn full time. Our optometrists through the course of your eye exam will be happy to advise you if you are a candidate for this lens.The lens has two zones in the same lens: the clear zone dedicated to the far vision and the relax zone for the near vision.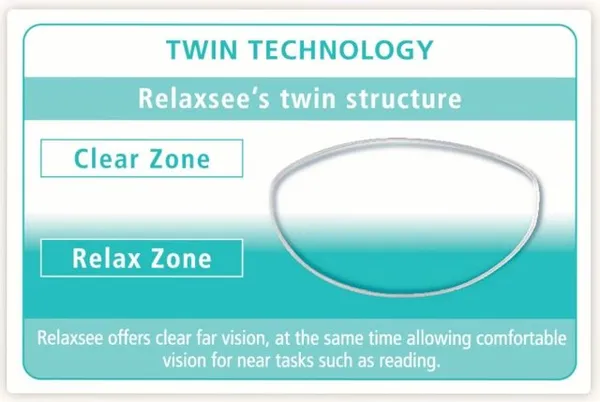 Traditional Single Vision Stress Relieving Lenses are intended for people under 40 (pre-presbyopic) who experience visual fatigue and discomfort associated with near enviroment work tasks such asreading and computer work. A stress relieving prescription adjustment is made to traditional Single Vision lenses. These lenses usually work well with students of all ages and office workers...anyone who faces long hours of intense reading, desk or computer work and experiencing symptoms of visual stress. Please note, these lenses are not suited for full time wear as distance is usually slightly blurred. They will not work in a classroom or lecture hall environment where clarity at distance and comfort with reading are required. Book an appointment for an eye examination and one of our optometrists will be able to advise you if this lens is appropriate for your needs.
For reading, desk and computer work only - not for driving (vision is slightly blurred in distance)
Available in three designs - spherical, aspherical (low distortion) or digital design (advanced custom high definition designs)

Available in glass, traditional plastic, polycarbonate and Trivex materials

Available in multiple indexes 1.50 (standard), 1.60 (thin), 1.67 (extra thin) and 1.74 (ultimate thin)

Numerous coatings available - both Scratch Resistant and Glare Free