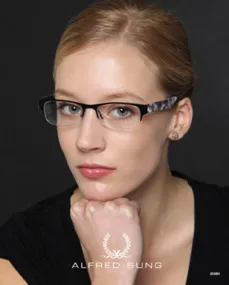 For more than 30 years Alfred Sung has created, marketed and merchandised sophisticated apparel, bridal wear, home decor, fragrance, eyewear and accessories for his loyal and broad customer base. The ALFRED SUNG brand has remained vital, contemporary and classic, which corresponds to his beliefs and lifestyle. The Alfred Sung eyewear collection defines innovative styling in both classic and contemporary shapes for men and women. Alfred Sung embraces exquisite, classic style and elegance, over trends that may be in one day and out the next.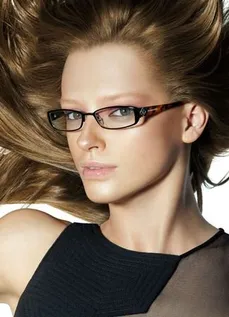 Bon Chic, Bon Genre" meaning "Good Style, Good Attitude" is the premise of brainchild brand BCBG from Max Azria, a premiere American fashion designer since 1989. BCBG creates fashion forward designs for the modern woman, and produces high end clothing and accessories, including eyewear. Cutting edge frame designs are manufactured using precision laser technology, special engraving techniques and pressed pattern processes, and are made from materials such as high quality stainless steel, beta titanium, and bronze materials. These luxury frames also feature genuine Swarovski crystal settings, and insets using other natural stones.
Back to Top
Powerhouse sports goggle brand DRAGON recently released its new, premiere prescription optical line in April 2013. Comfortable, durable athlete inspired designs engineered from high quality custom materials and unique colour blends speak to the young, and young at heart. Each frame features the hidden red Dragon emblem inside the hinge. Active lifestyle combined with prescription glasses and sunglasses have never looked so good.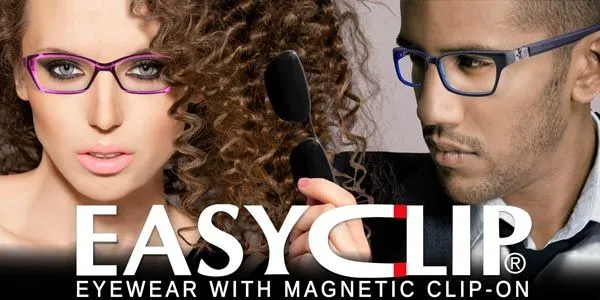 The EASYCLIP brand is a pioneer in the age of convenience. Stylish frames packaged with arevolutionay matching magnetic sunglass clip! These double duty designs have become a favorite with multi-tasking men and women everywhere who appreciate the simplicity and ease of combining great looking everyday glasses with important sun protection when needed, with the quick click of a clip.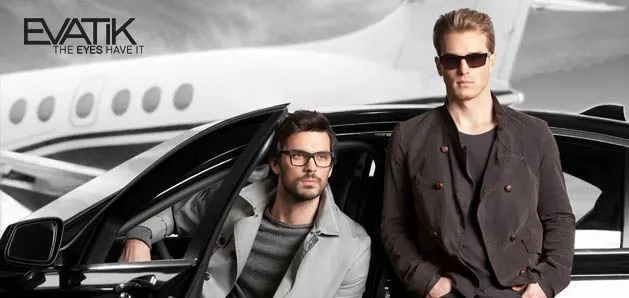 EVATIK brand eyeglasses define a new contemporary design classic for men with collections that suit casual and professional tastes. Crafted using fine materials like titanium, there is an obvious commitment to quality and engineering. Sleek structured lines, larger bold shapes, wider fits for comfort, and attractive colour choices strike the right balance of style and function. EVATIK frames deliver both favorable first impressions, and long lasting satisfaction among those who wear them.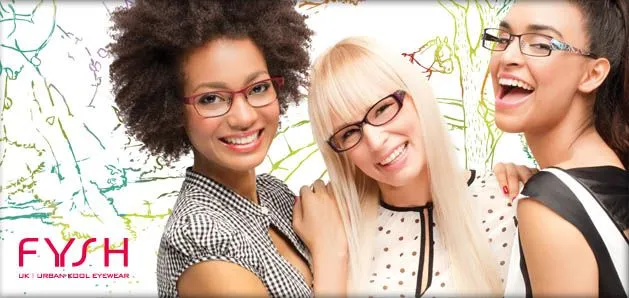 The FYSH eyewear philosophy is "hooked on life", and this passion for fashion is evident in each and every piece of the very vibrant collection. Inspired by the beauty of the sea and tropical fish in particular, Fysh frames exude splashes of brilliant colour and creative textures. These bold styles are designed "for people who live, love, and lounge in a big way!" It is modern eyewear that defies the common place, and definitely dares to be different!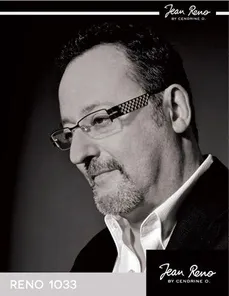 Another bold collection from Canadian designer Cendrine O. The exclusive Jean Reno collection, designed for the famous French actor, offers refined vintage styles and luxury. Jean Reno is never to be found in big box or retail optical chain stores. Distribution is limited to select professional dispensaries and optical boutiques only. Westwood Optical is proud to be one of the few Winnipeg suppliers of this exclusive designer product.
KLiiK Eyewear is the perfect union of today's fashion trends, and the solution to modern lifestyle demands. Innovative frame designs exceed consumer expectations with outstanding attention to detail, smart looking shapes, a friendly range of sizing, and chic subtle colours married in measures that are always just right. The Kliik brand is true style harmony that works for and with women and men every day, providing us with many great choices for all occasions and needs!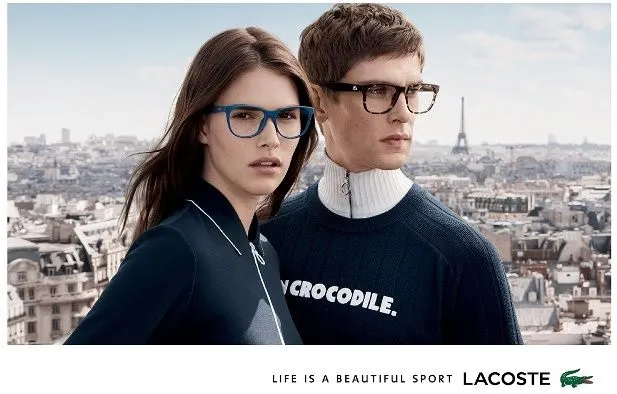 The Lacoste legend was born in 1933, when Rene Lacoste revolutionized men's fashion replacing the classical woven fabric, long sleeved and starched shirts on the courts, by what has now become the classic Lacoste polo shirt. The Lacoste art of living expresses itself today through a large collection of apparel for men, women and children, footwear, fragrances, leather goods, eyewear, watches, belts, home textiles and mobile phones. More than 75 years after its creation, Lacoste has become a lifestyle brand which exemplifies elegance and comfort.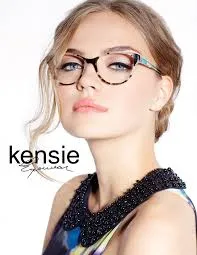 The evolving story of Canadian brand Kensie eyewear parallels a modern girl's struggle to make her way in today's complex world, kind of like loveable television characters Mary Tyler-Moore and Bridget Jones. Creative feminine interpretations of a young woman's moods, feelings, and emotions are expressed in sassy frame styles featuring fun shapes, electrifying colours, floral finishes, and wild patterns and textures.

Nicole Miller eyewear is part of a vast fashion empire that creates quality designer goods including handbags and clothing, jewelry and fragrances, and posh products for the home. Made for the modern woman, Nicole Miller frames are fun, happy, and subtly sexy, which makes them favorites on the faces of celebrities like Halle Berry andAngelina Jolie. Mixed media designs (plastic and metal materials) are thoughtfully print and colour elite. Exotic patterns and unique colours are edgy, described as "elegantly rebellious", and meant to stand apart from the "sameness" of many other eyeglass brands today.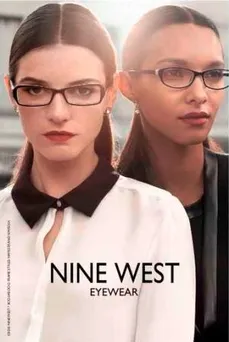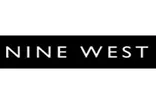 Fashion retail giant Nine West is style from head to toe! First famous for shoes, the Nine West brand has helped women put their best foot forward for 35 years. Prestigious runway experience successfully translated to everyday fashion items is what inspired todays "trend right" eyewear collections. Described as "affordable chic", the popular frame selections are also impressively diverse, offering lots of options for women of all tastes, from soft and demure shapes and colours, to big, bold and sexy styles and patterns.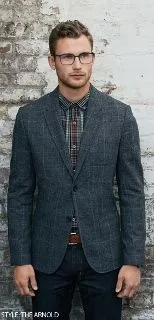 Original Penguin is an upscale American lifestyle brand that specializes in funky vintage clothing, footwear, and eyewear for men. First famous in the 50's for the quintessential golf shirt sporting the trademark Penguin emblem, and worn by Bob Hope, Bing Crosby and Frank Sinatra, the Penguin label achieved a reputation for notorious style and moxie. Penguin eyeglasses are indeed original, a special blend of hipster cool nostalgia best described by the adage "what's old is new again!"Thick plastic and horn rimmed spectacle designs, tortoise shell finishes, and industrial rivet detailing have definite old school and "bad boy" appeal.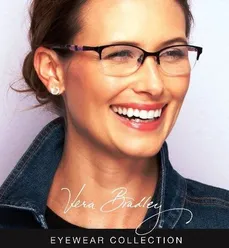 Vera Bradley eyewear embraces feminine charm. Each new Vera Bradley style is "born" from a creative process that takes 9 months from idea conception to ready to wear. It's all about the details! Signature colorful floral accents and patterns true to the brand's beginnings in luggage and quilt design and seen in today's clothing and hand bag collections, make every girl and woman feel pretty, and look fabulous in their new glasses! Authentic VB frames are available at select locations in Winnipeg, including Westwood Optical.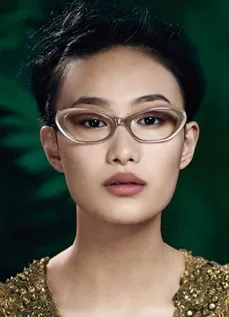 First lady of bridal design Vera Wang, is acclaimed for helping women look their best on their special day, and every day! She is best known for a core collection of exquisite wedding dresses, but her much sought after impeccable style extends to other high end market items, like ready to wear fashion, perfume, and lavish accessories including eyewear. Vera Wang frames are a mix of sophisticated drama and feminine detailing. Collections feature delicate stone settings, beautiful colours, and face flattering shapes and sizes. Glasses by Vera Wang are the undisputed choice among women when finding the perfect style matters.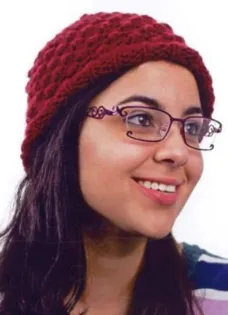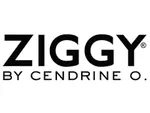 Ziggy is created by talented Canadian designer Cendrine O. Ziggy eyewear is designed to be different. As Cendrine O. says... "This is the 'something different' eyewear you have been searching for!" Artistic flair at its finest and crafted from only high quality materials, Ziggy is bold beautiful colours and intriguing textures, exciting shapes and unique details that look and feel special. Fresh new designs are released every few months. Ziggy is never to be found in big box or retail optical chain stores. Westwood Optical is proud to be one of the few Winnipeg suppliers of this exclusive designer product.