Eye Care for All Ages
Toddlers First Exam by Age 3 is Critical
The first eye exam should occur by Age 3 and much sooner in cases of observed turned eye, premature birth, low birth weights and congenital eye defects. It is very important that visual problems such as "lazy" eye and turned eye be detected and treated early as the window of time to treat such problems is limited. Effective treatment is often too late by age 6. In practical terms, the failure to detect and treat "lazy" and turned eyes early will mean that not only may your child be prevented from properly experiencing a 3D movie and have lifelong frustrations of a "wandering" turned eye, but may be prevented from future adult occupations such as being a pilot, truck driver, police officer and more.
The School Years
Young minds learn best when vision is clear and comfortable for both distance and near. Our vision testing is computer assisted and accurate even for young children. Whether it is nearsightedness, excessive farsightedness, astigmatism or eye alignment difficulties...we can help.
The Teenage Years and Contact Lenses
Whether its for cosmetic reasons or for sports...teenagers love contact lenses. Since 1984 we have helped tens of thousands of teenagers enjoy great vision without glasses. We expertly fit young eyes with the latest contact lens materials and designs. We also teach our patients proper insertion and removal techniques. Best of all we are here for long term care and advise. Should our young contact lens wearers ever experience blurred vision, sore eye or red eye, our optometrists have the expertise to manage the problem and set the patient on the right path.
The Working Years - Safety Eyewear
Being able to see properly at work is important. During the course of your eye examination we learn the details of how you are seeing and what your specific occupational vision needs are. We can then recommend and supply you with lenses that will keep you seeing as well as possible for your particular occupation and vision problems. We have a range of safety eye wear lens designs...Single Vision, Bifocal, Progressive and the clever Double D Trifocal for overhead work. Double D Trifocals are ideal for Electricians, Plumbers and Mechanics. These occupational lenses can help reduce the neck strain usually associated with continuous overhead work and yet still allow distance vision at a glance.
The Working Years - Computer Glasses
For People Under 40
These glasses are stress relieving prescriptions based on adjustments made to your distance prescription by our optometrists. These type of prescriptions help reduce the visual stress and resultant fatigue often experienced with continuous computer work or desk work. Even university students can benefit from these products. They come in two forms...low tech Single Vision Readers adjusted to relax your eyes at near and the new sophisticated Nikon Relaxsee lens. Our optometrists and dispensers can help you decide which form of these lenses would be the best choice for you.
The Working Years -

Computer Glasses
For People Over 40
Our vision changes as we age. Reading becomes difficult and the prevelance of eye disease begins to increase dramatically. It doesn't help that modern computerized work environments are more visually demanding and fatiguing then ever before. Regular eye examinations become very important, not only for keeping you free of unnecessary vision loss due to preventable eye disease but also recommending and supplying the right type glasses to keep you seeing clearly and comfortably at work. When it comes to desk work, there are three basic choices - traditional Single Vision, Extended Focus Near Range or the latest Extended Focus Intermediate Rangelenses.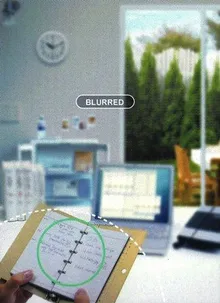 Single Vision lenses for people over 40 can work quite well in the earliest stages of mid-life near-point loss of focus (presbyopia). Single vision lenses are a simple and relatively inexpensive way of managing the problem. However, as one approaches age 45 and above, the range of clarity shrinks to the point that working with single vision lenses can be unneccessarily fatiguing. Eventually with single vision lenses, one would have to physically shift back and forth to work with the various desk distances. Extended Near and Intermediate Range lenses are simply a much better choice.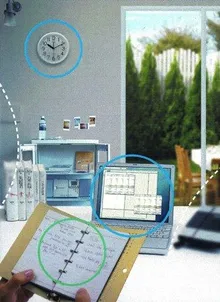 Extended Focus Intermediate Range for People over 40. (e.g. Nikon Home and Office EXT) These are the ultimate lens for modern work environments. They sacrifice some of width of the Extended Focus Near Range lenses but deliver much improved versatility with the range of clear vision extending to the far end of large rooms of a home or office. The advantages of this type of lens over single vision becomes quite apparrent usually by age 45 and beyond. You can watch TV and read comfortably at the same time with great clarity.

Please note- these lenses are a specialy item intended for enhanced vision with general office or at home work. They do not have true far distance capability and are not intended for driving. They should not to be confused with a standard progressive lens.
The Retirement Years - Vision to do the things you love to do



Regular Eye Exams are Essential



Today's seniors seem to do it all. Whether its outdoor activities such as traveling, boating, fishing,gardening, golfing or indoor activities such as reading, computer hobbies, arts and crafts or working with the tools in the garage....now that they have the time to do the things they love...seniors are doing it! A traditional pair of lined bifocals is simply not going to be adequate. Whether it is a pair of high definition digital progressives with a colour change adaptive lens, extended range intermediate lenses for the computer and TV or a pair of safety glasses for the hobby shop in the garage, we can correctly prescribe and supply the eyewear that best matches your lifestyle...and at affordable prices too. However, we do much more than sort out the best prescription and lens design for your activities. Our optometrists use some of the latest technologies to detect and manage many sight threatening diseases such as cataracts, glaucoma and macular degeneration. Our goal is to keep you seeing as well as possible and doing the things you love for as long as possible.